All Creatures Sanctuary is a 501(c)(3) not-for-profit organization dedicated to the rescue, rehabilitation and permanent placement of unwanted, abandoned and at-risk animals of all species. Our goal is to provide compassionate care for creatures in need and to network with other animal welfare groups and individuals in order to help as many animals as possible.
All Creatures Sanctuary is the product and vision of Tina Lufkin and her lifelong passion for animals and animal welfare. Originally located in beautiful, tropical Palm Beach Gardens, Florida, we have relocated to the mountains of Calhoun, Georgia!  The sanctuary is home to Tina and numerous animals of various species. Each animal at the sanctuary has a story and a past history that has ultimately lead them to their rescue and adoption by Tina. Once adopted, they will live out their lives free of fear, neglect or abuse and will enjoy the companionship of other animals and their human caretakers.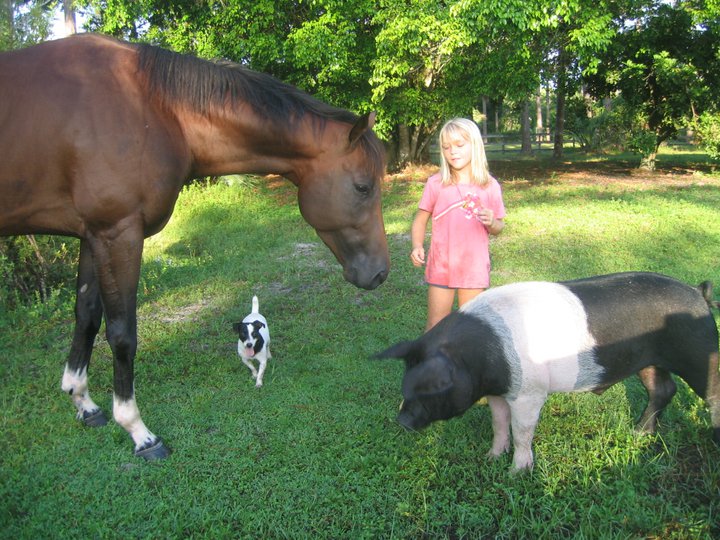 The Sanctuary cares for members of a variety of species that one would not expect to see all living together and getting along. This is just one of the things that makes the sanctuary so magical! Some visitors have likened the sanctuary and Tina's work with her animals toDr. Doolittle. Valerie K. Angeli, a long-time senior director of the ASPCA, has often visited All Creatures Sanctuary and has referred people in the Florida area with various animal issues and animals in need of placement to Tina. "It is truly a marvel and a miracle," she says, "to see horses, goats, pigs, peacocks, dogs, cats, ducks, chickens, rabbits, cows, wayward pigeons and donkeys all peacefully co-existing and hanging out together. And these are all animals with a sad past history — animals with issues who were not treated so well — and now they hang out playing and grazing under the trees and soaking up the sun."
The Sanctuary was officially incorporated as a 501(c)(3) non-profit organization in 2001 when Tina realized that she could no longer personally finance the rescue and permanent housing of so many animals in need at her private home. "Once the word got out that I rescued and cared for animals of all types, people would leave animals at my gate and call me with terribly sad stories of animals in need of immediate rescue. Individuals, rescue groups, humane organizations and shelters began to ask me if I could take a poor former dairy cow that had been abandoned in a hot trailer and left to die on the side of the road, a friendly pig rescued from a research lab that had endured skin graft experiments and a litter of tiny puppies that were too young to be put up for adoption at a local shelter. — How could I say no?"
Today, All Creatures Sanctuary continues to provide shelter and a loving home to various creatures in need. Tina continues to network with local humane organizations, rescue groups and individuals and if the sanctuary is unable to provide a home to an animal because of space limitations, Tina will consult with other animal welfare experts and groups to see what other options may be available for the animal. The sanctuary is solely supported by donations from caring individuals and is always desperately in need of funds to feed, house and care for the animals and to finance repairs and improvements of fencing and animal enclosures.